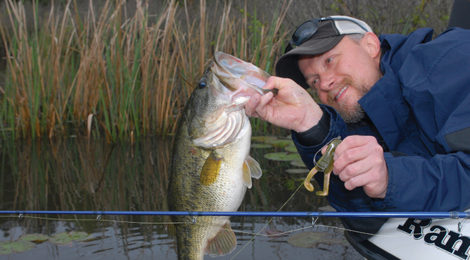 Soft plastic toad imitations bring out the headhunter in burly largemouths.
Story and Photography by Matt Williams
TOADVILLE, TX. — I love this place.
It's a shallow backwater flat dissected by a winding creek with scattered hydrilla, lily pads and a little bit of pepper grass showing itself on the surface. Stands of thick buck brush, button willows and torpedo grass offer even more valuable cover along shorelines where the water is skinny enough to wade.
It smells just as fishy around here as it looks. Everything appears so inviting that it seems like a crapshoot deciding on where to make the next cast.
Sunrise is barely an hour old and the bass are biting as light drops of rain dimple the slick surface.
My good friend Shady McGuire just landed his sixth fish of the morning. The feisty two-pounder gobbled up a stick bait and raced the opposite direction like a stingy kid who found the chocolate bunny on his first Easter egg hunt.
Yamamoto Senkos have been getting plenty of attention, but the quality has been on the skinny side thus far. Thinking there has to be a better way, I reach for a Stanley Top Toad and turn it loose on a long leash.
The hollow body frog lands belly down next to a clump of buck brush and I give it a light twitch as the ripples begin to settle. A bush wiggles and a wake bulges the surface as a head-hunting largemouth moves in for the kill on what appears to be an unsuspecting meal.
The strike is swift and violent. Rather than "slurping" the bait as they often do, the bass goes airborne and lands on top of the frog with its big jaws agape.
It's takes some doing, but I finally manage to wrestle the thick-shouldered lunker through the dense cover and into the boat.