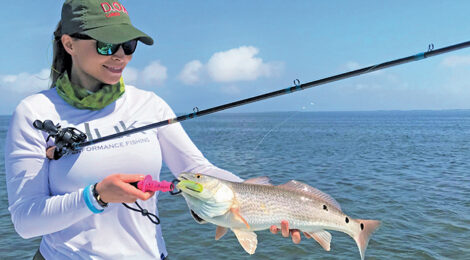 Selecting the best topwater lure for the location and situation results in some explosive hookups.
Story and photography by Robert Sloan
Fishing topwater lures for reds and trout does not get any better than what we'll have during the month of October. The combination of cool fronts and lack of fishing pressure adds up to some of the best wade and drift fishing anywhere along the Texas Gulf coast. The options are many. East Matagorda Bay, the Laguna Madre, Rockport, Port O'Connor, Galveston and Sabine Lake will light up with spectacular topwater fishing for the next four weeks and beyond. Plus of course, there is always the option of running the surf for trout.
Some of the best topwater fishing on Earth can be found north or south of the Port O'Connor jetties right about now. Just after a cool front moves through the surf will go flat and bring green tides all the way up to the first sand bar. And if you hit it on a day when it's green to the beach you might be surprised at what you'll catch. Aside from reds and trout, there will be tarpon.
One of my best recent days along Matagorda Island in the surf I used a chrome and blue Super Spook Jr. to catch seven trout to four pounds, and hooked up with three tarpon in the 10 to 20 pound class. There is nothing quiet like moving a topwater across the second gut and having a tarpon slurp the lure down in a big swirl. You set the hook and just like that you've got a silver king in the air.
Among the most popular October topwater fishing spots on the entire Texas coast is on East Matagorda Bay. This is where you have the option of wading or drifting, and guide Charlie Paradoski is among the best at putting his customers on both reds and trout during a day of fishing.
************************************************************************
To read more, click here to SUBSCRIBE