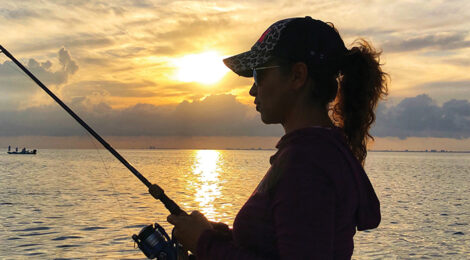 Spend as many days on the water as possible during October to savor the potpourri of fall fishing.
Story and photography by Danno Wise
Summer is without a doubt when most people think about fishing. However, seasoned saltwater anglers know autumn is where it's at. And, if you know, you know. Fall is a truly special time to fish along the Texas coast – especially along the extreme reaches of the Lower Texas Coast. Cool temperatures, a wide variety of aggressively feeding species and light winds combine to make October as close to perfect as possible for light tackle anglers and fly fishermen in the Lower Laguna Madre and nearshore waters of the Gulf of Mexico just north of the Rio Grande.
The list of angling options in October is extensive – in fact there is more available to light tackle anglers and fly fishermen during the tenth month than perhaps any other time of year. It is a period of time when anglers can literally do something different every day. Or, do several things in a single day. Fishermen can pretty much pick their favorite species and tactics and be virtually assured of success.
Flounder, sow speckled trout, school-size specks, bull reds, slot redfish, snook, tarpon, mangrove snapper, black drum, red snapper, tarpon, kingfish and Spanish mackerel are all available and active during October. There are also a variety of areas in play – shallow flats of the Lower Laguna Madre and South Bay, South Bay channels, Brazos Santiago pass and jetties, beachfront and nearshore waters of the Gulf are all productive areas this month. Various techniques – almost any technique, in fact – will also produce fish this time of year. Among the other advantages of October, it is also the best time to catch a Texas Slam – trout, flounder, redfish. South Texas fishermen often add a snook to make the Lone Star Slam grand. Not only are all these species active during October, but are all also found in good numbers of the lower end of the bay, so there is no need to run all over the bay in order to find each one.
************************************************************************
To read more, click here to SUBSCRIBE