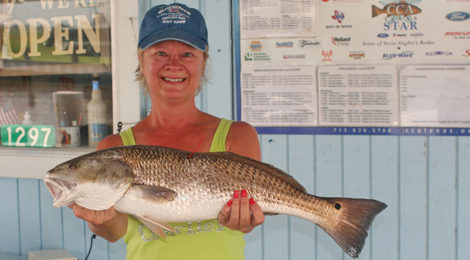 Texas' coastal fishing history being celebrated during the 30th annual summer long tournament.
Story by Bill L. Olson
"Those who cannot learn from history are doomed to repeat it. Those who do not remember their past are condemned to repeat their mistakes. Those who do not read history are doomed to repeat it."
Regardless of age, whichever phrase is most applicable there has to be on going accountability or eventually the mistakes of the past may return — even in our outdoor arena.
The threat might come from greed, apathy, indifference or some other influence that threatens once again what needed protecting and conserved. It is the mantra of modern conservation.
It was not too many decades ago when redfish and speckled trout were being harvested beyond natural recruitment levels. Commercial netters and fishermen caught all they could in order to cash-in on the growing demand at local seafood eateries and markets. If left unchecked the impact to these two species could have been irreversible
Fortunately there was a band of 14 concerned Texas anglers that foresaw the demise of these two popular fish due to overharvest. They stood together under the banner of a fledgling Texas based conservation group originally called Gulf Coast Conservation Association. The year was 1977 and for many graying "salts" they remember this era that became known as "The Redfish Wars."
The sense of urgency was real as the question of who would prevail rallied thousands to support removal of gill nets, and funded construction of coastal fish hatcheries to supplement redfish and trout numbers that could not be sustained from natural recruitment alone against an ever-growing state population.