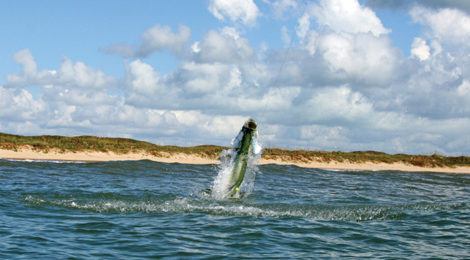 Inshore, near-shore, offshore, from a boat or beach there's something for everyone.
Story and Photography by Danno Wise
South Padre Island is located at the southern edge of Texas' southernmost bay, the legendary Lower Laguna Madre. The shallow, clear waters of the Lower Laguna, as well as the near-shore waters of the Gulf of Mexico fronting the island, offer a wide variety of angling adventures.
When fishing the waters at the southern tip of Texas, anglers can expect to catch plenty of the most popular inshore species in the Lone Star State along with a variety of different species not commonly found in the United States outside Florida. This is due to its extreme southern latitude and sub-tropical climate. Some of these species are year around residents, while others are seasonal visitors. With summer on the horizon, now through September is the best time to catch the greatest variety of saltwater species in Deep South Texas.
Tarpon are perhaps the most glamorous of these species. While tarpon can be caught throughout the Texas coast during summer, most of the other areas require a bit further run and have shorter tarpon seasons.
In the waters around South Padre Island, juvenile tarpon are found year around. Bigger fish begin to migrate through in late spring. Although some of these mature fish will continue on up the Texas coast, others will hang around all summer and late into the fall. So, once the big fish show, anglers will have an opportunity to hook a large tarpon until the first hard fronts push them back south during late fall.
Good tarpon fishing can be had in the passes on either side of South Padre – Brazos Santiago Pass to the south and the Port Mansfield East Cut to the north. There is also consistently good tarpon action along beachfront during summer. The great thing is these fish can be targeted by both anglers working from boats and fishermen standing on jetty rocks or dry sand. Drifting live mullet is the best way to target the biggest of the big tarpon.