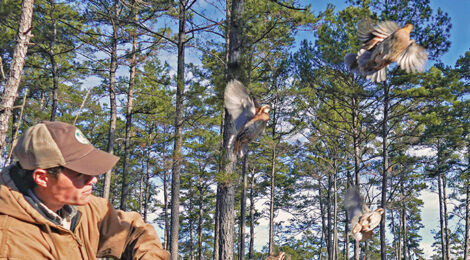 Tall Timbers project aims to bring bobwhite quail back to the Pineywoods.
Story and photography by Matt Williams
Modern wingshooters may not realize it, but there was a time when the bobwhite quail was a feathered fixture in eastern Texas. Quail numbers were particularly good in rural areas of the Pineywoods, where row-cropping was once a way of life for people like Tim Boatman, a Nacogdoches native whose family pretty much lived off the land in the 1950s and 60s.
Quail are all about habitat. To hear Boatman tell it, the landscape back then was ripe with goodies that helped the dapper little game birds thrive in lots of places.
"Just about everybody in East Texas had a garden and there were lots native pastures, weed patches and grown-up fencerows," he said. "There wasn't any Bermuda grass. Plus, there weren't near as many predators, because people trapped for the hides. If people saw a hawk they shot it. There weren't any feral hogs or fire ants. We had lots of quail and gravy for breakfast when I was a kid growing up."
Sadly, most family farming operations have since been sold off and much of the land has been converted to maximize timber, cattle and hay production. And you can get into big trouble nowadays for shooting a hawk, regarded by many experts as the No. 1 predator on bobwhites.
The gradual shift in land use practices hasn't been beneficial for quail. In fact, the birds have just about vanished from a region once regarded as the "Quail Capitol of Texas.
Brad Kubecka wasn't around during the good ol' days of East Texas quail, but he hopes to have a hand in bringing their signature trill back to the region and eventually make it worthwhile for landowners east of the Trinity to own a bird dog or two.
************************************************************************
To read more, click here to SUBSCRIBE