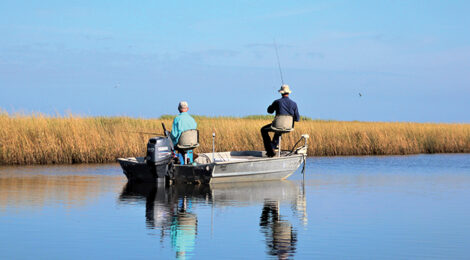 Beat the doldrums by fishing these off the wall places to find more trout, reds and flounder.
Story and photography by Robert Sloan
When I first moved to Beaumont from Fort Worth to work as an outdoor writer for a local newspaper, I didn't know diddle about that side of Texas but found out quickly that Sabine Lake and it's surrounding estuary lakes were loaded with trout, reds and flounder. One day I got a call from Jerry Norris, a guide on Sabine Lake. He wanted to know if I would meet him at a place called Junior's Landing on Keith Lake.
"You're going to like this place," he said. "It's used by very few fishermen and right about now the reds are stacked up along the shorelines chasing shrimp."
It was September, a time when shrimp and shad are migrating out of the estuary areas on back water lakes. The fish are hungry and there is no shortage of food on the menu.
We met up the next afternoon. Come to find out Junior's Landing was nothing more than a single lane boat ramp with rusted out rails and a box asking for a one-dollar donation for upkeep on the ramp. Judging by the looks of the sorry boat launching spot I gathered that very few people used it, and the money donated never made it past a cold six pack.
"I'll bet you've never heard of this place," said Norris. It was the first time we had met. "Been meaning to call and get you out on Sabine Lake. We're gonna go after reds today."
We ran about a half mile and he brought the boat down to an idle and pulled out a pair of binoculars.
"I'm looking for wakes up against the shoreline," he said. "Usually, those white herons will be following a feeding redfish that's pushing shad and shrimp up on the bank. Tie this shallow running crank on and let's see what happens."
************************************************************************
To read more, click here to SUBSCRIBE