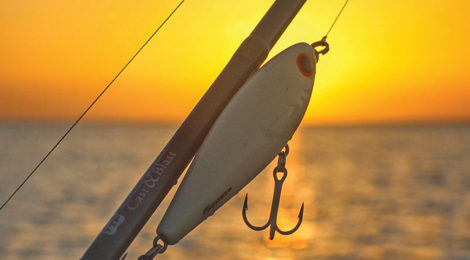 To take full advantage of outstanding surface action, prepare to utilize multiple techniques and a variety of lures.
Story and Photography by Danno Wise
There are few things more exciting than seeing a redfish or speckled trout explode on a lure worked across the surface of shallow bay waters. It can be quite addictive.
For those who suffer from this malady, the cure is right around the corner as the year's most productive topwater fishing time is upon us. Without a doubt, late summer through fall provides the most consistent topwater action and it all begins in September.
Without a doubt the ninth month of the year is still very much summer-like. Without looking at the calendar it is often difficult to tell the difference between early September and August. However, despite the still sizzling summer temperatures, the water will begin cooling off during the ninth month due to shorter days as well as the occasional early season cool front. As a result, more fish will be spending more time in shallow water. Additionally, these fish will become much more active and aggressive as the water temperature begins to decline.
Light winds are also typical of September, allowing bay waters to calm and settle. This allows for consistently good water-color and clarity in Texas bays.
The mild winds also mean ideal drift speeds for those working topwater plugs from a boat and quiet wading conditions for those who hop out. In short, September kicks of an outstanding period of time for topwater fishing along the Texas coast. And, although many anglers have their preferred method for targeting fish with topwater techniques, there are far more ways to draw surface strikes than most anglers realize.
Traditional Walkers The first thing that pops into most anglers' minds when they think of topwater fishing is walking the dog with an elongated plug. From the early days Zara Spooks and Jumpin'