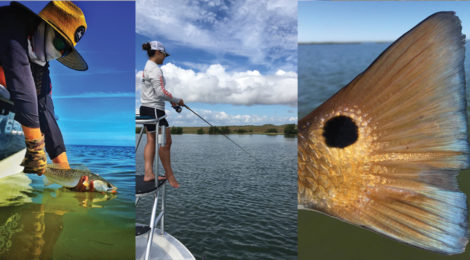 Options and techniques for those special days when favorable conditions align.
Story and Photography by Danno Wise
Spring generally brings several visions of successful fishing forays.  One may be wading for trophy trout with big topwater lures.  Another is catching numbers of solid keepers with popping corks or plastics around reefs or while drifting flats. However, there is also a surprising amount of sight casting opportunities during the spring season along the Texas Coast.
So, what should sight-fishermen expect during spring? Some things are different, while others are the same. Like most things that have to do with spring coastal fishing, it all depends on the weather.
There are some general rules of thumb to consider.
Obviously, sight-casters prefer relatively calm days. Unfortunately there are relatively few of those during spring. However, on those rare spring days with mild winds, anglers can have fall-like sight-casting opportunities. Inasmuch, anglers should expect to fish the same way they would in fall on those days. The water temperatures are very similar between the two seasons and the fish will react in much the same manner.
Much more often, it is windy than calm in spring. But, by April the water is warm enough for fish to be moving up onto flats and into back lakes and bays. So, anglers need only to find protected, clean water in order to be able to sight-cast. Even then they should expect to have a small chop on the surface. However, this isn't such a bad thing. Most experienced sight-casters have learned to use the wavelets like "windows" to see beneath the water's surface.
One other thing that is often necessary on windy days is sight-fishermen will need to modify the lures that they cast. Smaller profile baits, and even spoons work well to cut into wind. Because the bays are full of newly hatched prey items during spring, these diminutive offerings can still be plenty effective, even on larger fish.