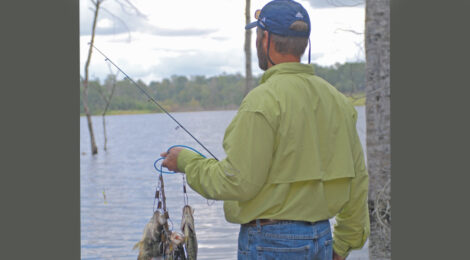 Angler conflicts around brush piles are on the uptick on some lakes.
Story and photography by Matt Williams
It is no secret among crappie fishing buffs that sinking brush piles far from shore is a great way to forge some really good fishing holes while enhancing the habitat at the same time. Unfortunately, the practice has been known to stir up an occasional feud between fishermen, particularly on public reservoirs shared by lots of other anglers on the hunt for a sweet spot to dunk a shiner or jig.
While most clashes over brush piles lead to nothing more than a few cross words, some get heated and escalate out of hand when they shouldn't. Folks have gone to jail because of altercations over fishing holes.
I'm aware of a couple of incidents where guns were brandished. One happened pretty close to home.
During summer of 2017, a Louisiana angler and his wife went fishing on Toledo Bend. The couple was reportedly fishing around a submerged brush pile when they were approached by an angler in a different boat who claimed they were fishing in his spot and demanded that they leave.
According to a Louisiana Department of Wildlife and Fisheries news release, a heated argument followed that eventually led to the husband pulling a handgun on the other man.
The release says the Sabine Parish Sheriff's Office eventually arrested the husband for aggravated assault with a firearm. The man told authorities he pulled the handgun in self-defense, because he felt threatened by the actions of the man who approached he and his wife on the water. The other angler was cited for harassment of persons lawfully fishing, the release says.
************************************************************************
To read more, click here to SUBSCRIBE