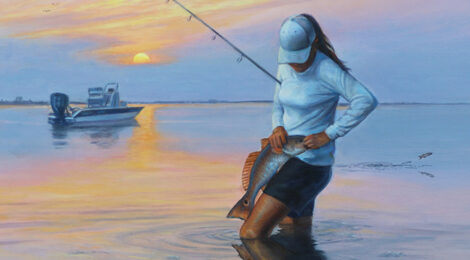 There is an ever increasing number of women hitting coastal waters to enjoy the tranquility and thrills that await. Some arrive as eager amateurs wanting to learn or improve on their skill set. Some take it steps further and look to make a career in this salty environment.
Such is the case with the subject of this month's Cover Art entitled "Reflections by Calvin Carter. Captain Ruby Delgado is a young woman that grew up around the coastal fishing and recreational industry on Texas' lower coast. She eventually realized she not only enjoyed saltwater fishing but was pretty darn good at it so she has made it a career choice as a licensed Captain and fishing guide.
Texas coast has plenty of room for those that want to carve out their piece of the saltwater action. Plus these women should be welcomed into the angling community, particularly to help preserve our resources while passing on skills to others.
There is also a reality in our world today and women involvement. With more and more women being heads of households and primary caregivers of our youth I am reminded of an old saying, "If you get Mamma to the dance, then everyone will come to the dance." Our coast needs that kind of support.
A sketch by popular Texas artist Calvin Carter was the Genesis for this cover art project. Others became involved in the editorial content of this issue that has become a celebration of women in the outdoors. It's just another example of how we are all in this outdoor world together.
For more information on "Reflections" and other fine works of art or commissions by Calvin Carter, visit www.calvincarterart.com, email mcalvincarter@yahoo.com or call (409) 201-6685.  — Bill L. Olson
************************************************************************
To read more, click here to SUBSCRIBE