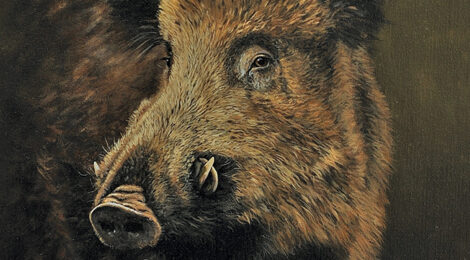 Renowned international artist Hans Bulder of Apeldorn Netherlands has once again captured the mystery, prowess and intrigue of the wild boar. Highly regarded as a game animal in the forests and countryside of his Dutch homeland Bulder's portrait painting displays the respect sus scrofa is given by European hunters.
Most impressive in this painting is the dark background that cloaks the boar in a bit of secrecy. The small beady eyes, long snout and formidable tusks reflect this formidable animal.
However, the challenges faced by the ever increasing hog population, rooting and damage to crops are not unique to America. They are also a challenge to those on the wild boar's home continent.
This is Bulder's second cover for Texas Outdoors Journal following the broad success and acceptance of his first cover appearance on the May 2020 issue.
For more information on this painting other fine works of art by Hans Bulder visit www.hansbulder.com or email info@hansbulder.com. — Bill L. Olson
************************************************************************
To read more, click here to SUBSCRIBE