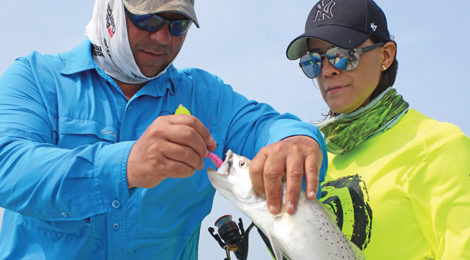 Fishermen can expect to catch good numbers of specks just about any way they want.
Story and photography by Danno Wise
From early to mid-summer speckled trout are everywhere along the Texas coast. Back lakes, marshes, mid-bay structure, grass flats, surf, jetties – it seems as if every stretch of water and every type of habitat is holding good numbers of solid keeper specks this time of year.
Not only are trout found in a wide variety of areas during the month of June, but since temperatures haven't quite reached their sweltering peak, they are also plenty of active fish that are feeding aggressively.
This is also a time of year when spotted sea trout can be caught on just about any type of lures and bait. So, it is little surprise that the vast majority of inshore anglers are focused on specks as spring turns to summer. With so many productive options available, anglers can basically choose to fish where and how they prefer. They can also take advantage of the variety of areas holding schools of specks and try doing something a little different each time they hit the water in June.
If one was to pick the most popular way to catch a box full of specks this time of year, it would hands down be using a shrimp under a popping cork. Traditionally, for generations, Texas anglers have been live shrimp afficionados.
However, that has changed in recent years. While kicking crustaceans are still very widely used, these days a large contingent of anglers utilize some sort of artificial shrimp beneath their popping corks with GULP! and D.O.A. shrimp being the most popular imitations.
While on the subject of change, most of the "popping corks" employed by anglers today aren't popping corks at all, but are wire-through floats with an assortment of beads. The cup-faced Styrofoam popping corks that were once so common along the Texas coast are rarely seen today. The idea, nonetheless, is the same – keep the bait suspended at a constant depth while providing fish attracting sound.
************************************************************************
To read more, click here to SUBSCRIBE