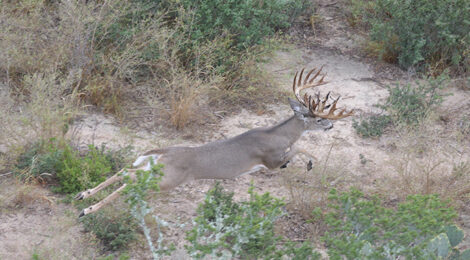 Antler development of trophy whitetail bucks' observed in 2019 and then again one year later.
Story and photography by Bob Zaiglin
As drought sustained a firm, debilitating grip over much of South Texas in 2020. The parched native vegetation, vital to all wildlife, particularly deer, entered a state of dormancy, suspending regrowth in order to survive, yielding little in the way of nutrition.
More importantly, the grasses and weeds that fawns depend on for shelter from intense summer heat and protection from predators was absent from the landscape, negatively impacting survival of newborns.
Although deer are resilient, survival is never guaranteed regardless of age or climatic condition. In 2019 anthrax killed a significant number of deer. In 2020 it was drought, with Uvalde, Zavala, and Maverick Counties impacted most by Mother Nature's wrath.
The result of drought throughout 2020 was obvious to me while conducting aerial deer surveys throughout October into late December.  Surveying 20 different ranches, spending 93.4 hours in a helicopter, while attempting to come up with an estimate of the deer population on ranches I am associated with.
************************************************************************
To read more, click here to SUBSCRIBE