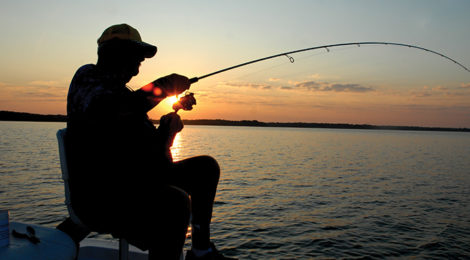 Catfish guide reels in armies of channel cat with sweet smelling cheese bait.
By Matt Williams
Another brilliant sunrise is about to shine on Lake Fork and Stubby Stubblefield has already got his game face on. There are three 50 pound bags of Purina range cubes stacked neatly at the rear of the boat and several of his custom wrapped spinning outfits stuffed in the rod holders that line each side of the center console.
A couple of the rods are blue with the guides wrapped in red and yellow. He's particularly proud of the "Trump 2020" insignia etched in white paint at the base of rod blanks. I take it as a good sign I'm sharing the boat with a guy who believes in tending to business and doesn't mind speaking his mind in the process.
"I've been selling 'em like crazy," he said.
Stubblefield is a big guy with a colorful personality who wears a bright yellow ball cap you can easily spot from a 1/2 mile away on a sunny day. Don't be fooled by his cartoon character-like name, though.
The 68 year-old fishing guide doesn't clown around when it comes to catching channel catfish. In fact, the only thing he might take more seriously is getting the secret blend in his homemade catfish bait just right before he slaps his trademark logo — Stubby's Cheese Bait — on another plastic tub.
Stubblefield hasn't always been such a catfish nut. The former commercial roofer from Mansfield has worked hard most of his life and spent his time off competing in a few bass tournaments or pleasure fishing for whatever happened to be biting best from one day to the next.
Some huge tasks were thrown in his company's path over the years. Among the biggest was putting a new lid on the Mercedes-Benz Superdome after Hurricane Katrina wrecked New Orleans in August 2005.