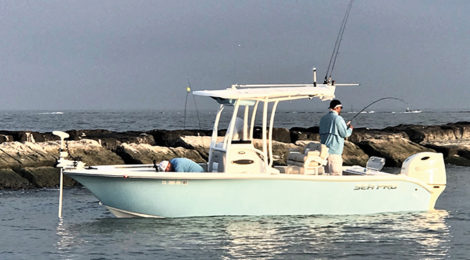 Best bets to fishing Texas' jetties that provides a variety of gamefish.
Story and photography by Robert Sloan
July is probably the best month to be fishing one of the many jetties scattered along the Texas coast, when it comes to catching a variety of fish. It's all starts in July, but extends into August and September with some really remarkable catches of game fish that include tarpon, snook, ling, king mackerel and even the occasional sailfish. But, if you're like 99.9 percent of jetty fishermen, you are in the hunt for reds and trout. Anything other than those gamers is a pleasant surprise.
I never thought I'd see the day that fishing the jetties without an anchor was the best thing since apple pie and vanilla ice cream. But, like they say, nothing ever lasts forever. And the days of dragging in a backbreaking anchor along the rocks are over – thank God!
The new deal centers on GPS controlled trolling motors that will hold you on a dime in just about any current. It's simple. You get to the jetties, put the trolling motor out, turn it on and run up to where you want to fish. Once you're on location you hit the spot and stop button and proceed to fish.
Guide Ron Arlitt fishes the Port O'Connor jetties a lot, and mostly without a deck hand. That means that during a day of fishing with customers he'll be moving around from one spot to another. And if you're putting the anchor out and pulling it in several times a day, you're in for quite a work out, and an aching back the next day. "Without a doubt the new GPS controlled trolling motors are the only way to go," says Arlitt. "You get to your spot along the rocks, click the trolling motor and you are set. It's takes the guess work out of using a combination of an anchor and lots of rope. At the Port O'Connor jetties we have some pretty deep water to fish. The i-Pilot mode on my Minn Kota trolling motor allows me to set up over a rock in 20 to 40 feet of water and fish directly over fish holding structure.
************************************************************************
To read more, click here to SUBSCRIBE