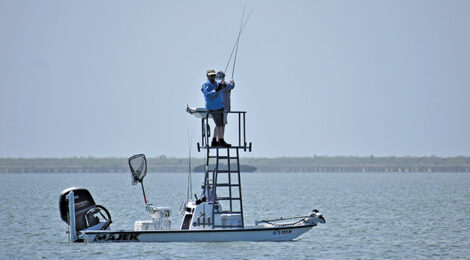 Elevated fishing opens up a whole new world angling on Texas' flats.
Story and photography by Robert Sloan
Drifting across a lagoon just south of Port O'Connor the water looked to be devoid of reds and trout, that is until Victor Randazzo from atop the poling tower on his shallow water skiff saw three golden colored reds easing along the shoreline. Perched on the bow of the boat I couldn't see anything but strands of grass on the mirror-like surface of the clear water.
"What direction," I asked.
"About two o'clock and moving slowly from right to left," said Randazzo, a long time fishing buddy and an expert at fishing Texas' clear-water flats. "Flip your jig out there and see what happens."
The cast with a four inch D.O.A. chartreuse and silver jerk bait was right on the money.
"That's perfect, now twitch it and see what happens."
It didn't take long for one of the reds to see the darting jig. It shot sideways and inhaled the imitation lure in a swirl of clear water on this flat that was only about a foot and half deep. I never saw it until the swirl. It was another classic moment of fishing the flats from a boat with an elevated platform.
That type of fishing is big time popular along the Texas coast now, and some of the best water is from Port O'Connor and on down to the lower Laguna Madre. That's a lot of clear and clean water that allows anglers to spot and stalk fish like reds and trout.
The spot and stalk angle of fishing has been around for years and mostly done by fly fishermen from poling towers. However, over the past decade or so the center console boats with fold over towers have become very popular. And if you get down to the lower coast a lot of the shallow running boats have towers on the bow and the stern.
"It gives you a definite edge," says long time guide Eric Glass, who has been putting his customers on trout and reds for decades on the Laguna Madre. "You can see so much more from an elevated platform. It's the easiest way to spot fish and put the boat in position for the angler to get a good shot at reds and trout."
************************************************************************
To read more, click here to SUBSCRIBE