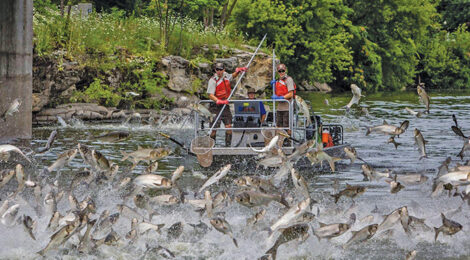 TPWD concerned about recent discovery of invasive silver carp below Lake Texoma's dam.
Story and photography by Matt Williams
Just when you thought the list of invasive pests to sneak into Texas couldn't get any longer, it did.
Silver carp, a prolific variety of freshwater carp native to China, have been discovered in Choctaw Creek in Grayson County. The creek rises about 15 miles downstream from Lake Texoma near Sherman and runs northeast about 38 miles before dumping into the Red River along the Texas/Oklahoma border.
In June, Sherman bow fisherman Stephen Banaszak arrowed two of the carp, including a 13 pounder. Texas Parks and Wildlife Department's fisheries biologist Dan Bennett of Pottsboro said the fish were turned over to TPWD and U.S. Fish and Wildlife Service who identified them as silver carp. On July 19, Banaszak turned in an even bigger fish arrowed from Choctaw. That one weighed nearly 21 pounds, Bennett said.
Although this marks the first time silver carp have been found in Texas, Bennett says the fish were documented back in 2019 in other areas of the Red River, including just downstream from Lake Texoma in Oklahoma waters.
Silver carp aren't the first invasive Asian carp species that have been found in Texas, either. Bennett said bighead carp — a cousin to the silver carp — were documented several years ago in the Red River and tributaries downstream of Lake Texoma. Bigheads also have been identified in Big Cypress Bayou downstream of Lake O' the Pines and Sulphur River downstream of Lake Wright Patman.
Like the bighead, the silver carp is a peculiar-looking fish with a scaleless head, low-set eyes, upturned mouth and no teeth. As juveniles, both can easily be mistaken for shad or minnows.
************************************************************************
To read more, click here to SUBSCRIBE