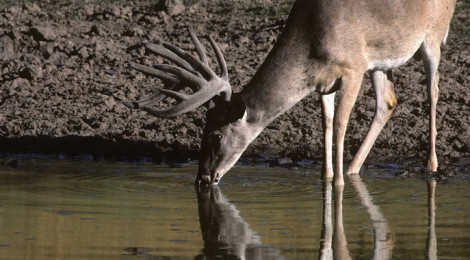 Managing for big bucks on small parcels is challenging but tremendously rewarding.
Story and Photography by Bob Zaiglin
Ensconced in an elevated deer blind overlooking an oat patch in the middle of an ocean of brush in early December, I along with my wife Jan watched a doe engulfing the palatable grain while her fawns dashed back and forth in a peaceful fashion.  Unquestionably, we enjoyed the show, but that was not why we had been sitting in that box-like environment for two hours.  We were anticipating the arrival of the field's antlered visitors, particularly those mature eight-pointers known to frequent the area.  And from the ubiquitous scrapes along the field's edge, I was confident that several would show up, if not to feed, to check out the female visitors as the rut was fast approaching.
I found myself zipping up my jacket as the sun disappeared below the mesquite-lined horizon and the warmth of the evening sun was eclipsed by a drop in temperature.  Almost like a lunch period in school, deer began to exit the thornscrub and enter the field.  They were cautious at first, but after obtaining a mouth full of oats, they relaxed, feeding away on the grain sprinkled across the seven-acre field.  At first does and young bucks appeared, but it wasn't long before several mature bucks entered the field.
Preoccupied looking at a really wide 12-pointer through my Zeiss 10 x 60s, I felt a little nudge to discover Jan looking at an eight-pointer with a 21-inch inside spread outside her window.  I knew immediately that this was the caliber of buck we were after, so I told her to prepare to shoot.  Silently and methodically she laid her .270 on the window sill and got comfortable.  Once she said she was ready, all I said was okay, and the quiescent evening was shattered by the rapport of her rifle.  The beautiful animal collapsed onto a food plot that I had actually developed and planted specifically for deer, making the event even more memorable.