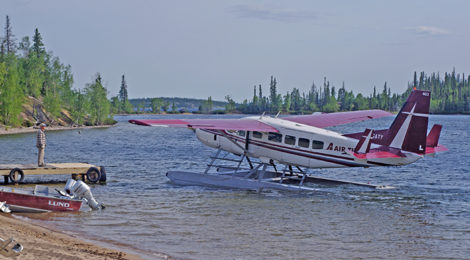 Canada's Northwest Territories' unpressured angler's dream destination.
Story and photography by Bill L. Olson
A cool Canadian breeze slipped through the screened mesh surrounding the dinning area at Nonacho Lake Fishing Adventure's island campsite. A feast had been prepared for our first evening meal while flames danced in the fireplace that served as a warm welcoming reminding us of just how far north we were visiting in late July 2019.
A trio of friends and I reminisced about our first afternoon of fishing on this remote, lake and listened with anticipation of what our host Myles Carter said was in store over the next few days. My thought was the following days were going to have to really go some to top our introduction to this part of Canada's Northwest Territories.
As we sat down to enjoy the homemade recipes Myles wife Lisa had prepared, a question that seemed to be a dinnertime tradition was asked, "What was the favorite part of your day?" One by one each of us, along with our hosts answered this thought provoking inquiry.
When it was my turn to respond I said, "My favorite part of today was that the reality was far better than what had been anticipated" — and my anticipation had been "off-the-chart." This trip had been scheduled since late February 2019 with logistical preparations ongoing over the following weeks and months. There had been plenty of time for the anticipation of this adventure to build.
Since the initial telephone call with Myles a trip for one grew into a trip that increased to include three friends. I told my friend Mike Sutton, owner and outfitter of Getaway Lodge in Port Mansfield Texas of this planned foray. He asked if there was room for he and his son Thomas to come along. A call to Myles confirmed he could accommodate the extra two guests.