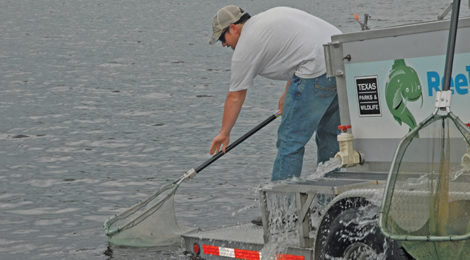 Texas fish hatcheries are not immune to the impact of COVID-19.
Story and Photography by Matt Williams
Springtime in Texas.
In a normal year, it's a time when Texas Parks and Wildlife's fresh and saltwater hatchery crews run full bore with sights set on lofty production goals aimed at raising close to 40 million baby sport fish for future stocking in public reservoirs, rivers and coastal bays.
This spring has been anything but normal. While the fish have no idea coronavirus is dancing in the air, the pandemic caused TPWD leaders to make adjustments to daily operations at the agency's fish hatchery systems to help keep employees and the general public safe while complying with shelter in place orders issued by county governments.
t has hardly been business as usual.
Beginning in March, all state hatcheries ran on skeleton crews with workers shuffling in and out as needed to keep fish fed, do necessary maintenance on facilities and perform other assignments that come with the turf.
Likewise, a monkey wrench got tossed into some hatchery production schedules while bringing a host of unexpected challenges to scientists during one of aquaculture's busiest seasons. In some cases, those challenges made it impossible for personnel to carry out the intricate processes associated with spawning fish in controlled environments, while maintaining necessary social distancing protocols to prevent spreading of the disease.
The COVID-19 crisis has been especially burdensome on the state's freshwater hatcheries, an immense system comprised of five facilities with 298 outdoor growing ponds spanning roughly 263 surface acres.
************************************************************************
To read more, click here to SUBSCRIBE