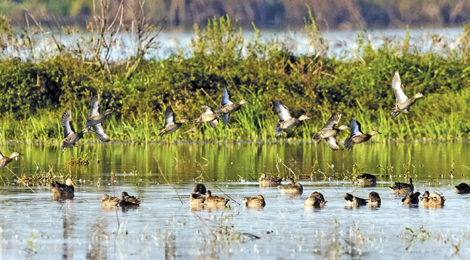 Migrating birds can provide fast action on private leases, public lands and guided hunts.
Story and Photography by Robert Sloan
September is the month of flying feathers. We start out with doves and by the middle of the month we're up before dawn setting out a decoy spread for teal.
It's all good and lots of fun. About the only thing we've got to worry about when teal hunting is running into an ant bed or an encounter with a snake.
The great thing about the early teal season is that we're usually going to have plenty of birds. And if you're on a pond or flooded rice field with no birds don't give up. It's no secret that teal are migrating through Texas in September and on their way south. If you don't have birds today, the chances of them swarming into your area could happen overnight.
One of the absolute best teal hunts I've ever had was on a small pond about the size of two suburban lots. It was just outside of Angleton located in a wooded area lined with big trees. We got back there one afternoon and found feathers all over the water – a sure sign that teal were using it as a roost. We came back the next evening, tossed out about two dozen decoys and leaned up against a couple of big oak trees. About an hour before sunset teal started dive bombing over the decoys. We put easy limits on the water in about 15 minutes. Teal hunts can go from no birds to hundreds of them in no time flat. That's often the case for hunters on flooded rice or crawfish ponds. I spent a number of years hunting teal on crawfish ponds in Southeast Texas.